Junior Chefs Camp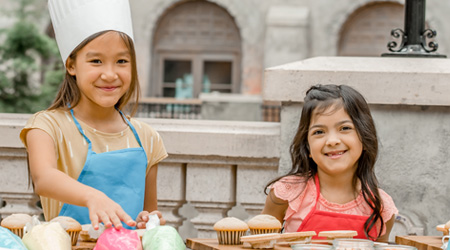 This fun day camp teaches junior chefs to cook, plate, and serve a special treat for two family members to enjoy at the end of the day. Choose from three different themed events.

Price:
$90 per Junior Chef (includes 2 Family Chef dining passes)
$40 per additional Adult Chef
**$110 per Junior Chef for Carnival Class

Time:
11:00am - 2:00pm
Must Check in 20 minutes before class
6/4 - Plant me Color
Kids will learn how to make surprise cupcakes filled with confetti and candy and decorate them with buttercream. They will also decorate sugar cookie flowers and build an edible bouquet.
7/30 – Pizza Palooza & Push Pops
Kids will learn how to work with pizza dough, build their own pizza, and cook it in the pizza oven as well as how to build their own "push pops" for dessert.
8/20- Grand Closure- Summer Texan Fair & Carnival
Kids will learn how to decorate donuts and popcorn cannons. Enjoy carnival themed games and food with your family during this Grand Closure Event!